A taste of Sardinia
Goblets good enough to eat? Pasta for desert? Have you a sweet tooth but no time to make your favourite cakes and buns? Join us on our culinary tour of Sardinia.
It's a rare thing nowadays to eat a home-made cake and few of us have the time to bake the traditional goodies that our mothers and grandmothers prepared at times like Easter and Christmas. Thankfully, however, there are still some places where tradition holds strong. We take a trip to
Sardinia
, and taste some delicious Easter cakes.
A kaleidoscope of cakes

The first things we come across are the visually stunning
Candelaus
: mouth-watering pastries shaped like goblets, shoes and birds and decorated with gold icing. We're still in time to taste the scrumptious cakes made for Carnival:
sas Origliettas
- nests of finely braided pastry which are then fried and topped with honey and
Zipulas
, sugar-coated fritters. We then head off to
Oristano
to sample a local speciality,
Su Mustazzolu
, a lemon-flavoured yeast cake which is left to rise for up to 20 hours before baking.
A nibble in Nuoro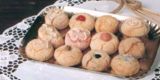 Before leaving Oristano we get the chance to nibble on some
Amaretti
biscuits. A delicious concoction of sweet and bitter almonds, sugar and egg white. We then go to Nuoro, home of one of Sardinia's best-loved sweets - the famous
Torrone di Tonara
, a nougat made from honey, dried fruit, nuts and egg white. Nuoro is also known for its
Seadas
or
Sebadas
.
Sebadas
look like giant ravioli and are made from fresh cheese, grated lemon rind and sugar. They are then fried in olive oil and sprinkled with honey or sugar. Another culinary delight from Nuoro is
S'Aranzada
, a desert made from candied orange peel, honey and almonds, served on lemon tree leaves and decorated with silver sugar balls
Almonds, almonds everywhere

Next stop is near Sassari where we treat ourselves to some
Sospiri di Ozieri
: little almond-flavoured balls covered in icing or chocolate. We then set off for Berchiddu, home of the jazz musician Paolo Fresu, where baker's ingredients such as
Sapa
(a mulled wine concentrate) and
S'Abbamele
(a flavoured honey) are made. Sapa is used when making
Pabassinos
or
Pabassinas
- biscuits made from almonds, nuts, lard and raisins which are often iced and decorated with hundreds and thousands. It's also an essential ingredient in
Su Pane 'e Saba
- a sweet bread stuffed with the ever present almonds, walnuts and orange peel.
We finish off our trip with a plateful of
Casadinas
or
Pardulas
, commonly known as
Formaggelle
: little nests of pastry filled with ricotta, sugar and raisins.