Roberto Cavalli's pelts and plumes
In a patchwork of skins and pelts, luxury is the keyword to this season's look. He may be over-the-top but he's certainly not over the hill.
Heralded as "the new Versace", Roberto Cavalli has joined the ranks of Italy's fashion elite. An eclectic explorer and over-the-top eccentric,
Cavalli
has won his way into the hearts of jungle bunnies the world over, colonising catwalks with his exotic tropical style.
His zebra print cushions and rugs, snake-skin accessories and gloriously equine models all underline a look that is essentially a collection of dead animals. Cavalli, on the other hand, is alive and kicking, even though he had threatened to give it all up only five years ago. Luckily he had second thoughts and is now the toast of the fashion world, being labelled as a "cult stylist" by the fashion bible
'Vogue America'.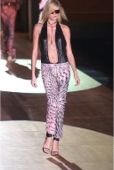 Cavalli was born in Florence almost 60 years ago. His grandfather was a well-known painter and student of
Giovanni Fattori
. Cavalli, in turn, paints his ideal woman, swathed in gloriously
low-cut
backless skin-tight
black leather
, whose sinuous heels perch on
6-inch stilettos
, a return to the hedonistic high-life of the eighties. Cavalli's lifestyle speaks for itself with
paparazzi
shots capturing him relaxing in his Jacuzzi on board his yacht, wrapped in leopard-print sheets or snuggled into a wolf-skin jacket.
Celebrities
vie for invites to his parties, which are non-other than well-disguised marketing manoeuvres. Investments of an estimated 50 million Italian lira each. After all,
how
much does a full-page spread in the top fashion glossies cost?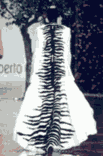 A definite case of so far so good for the new Versace.
Cavalli
has upped production with a new diffusion line, a lingerie collection, sunglasses, watches and even a customised motorbike. Oscar Wilde wisely said that man can resist everything, except temptation and Cavalli certainly couldn't resist the temptation of covering his Ducati Monster with a patchwork of pelts. Seeing is believing, so hurry along to his store in Milan's
Via della Spiga
and view it, close-up.