Our Lady of the Dance
We go to Basilicata on a three-day pilgrimage full of music and dance
The Pollino Massif straddles
Calabria
and
Basilicata
, or
Lucania
as the region has been called since Roman times, in the very south of Italy. From July 5
th
to 7
th
, the spectacular surrounds of the
Pollino National Park
are the natural backdrop to the traditional festival of the
Madonna of Pollino
. The highlight of the festival is the procession up the mountain towards the
Sanctuary
, which was built at the beginning of the 1700s on the site of Our Lady's apparition to a young shepherd. The view from the Sanctuary is stunning and it commands views over neighbouring Calabria as well as inland towards
San Severino Lucano
(site in Italian only).
Those of you who shudder at the idea of a long arduous procession under the relentless Southern Italian sun will get a pleasant surprise. As with many religious festivals in Southern Italy
the sacred walks hand in hand with the profane, bringing together the whole community in a frenzy of
traditional dances and music
(generally
reed pipes, barrel organs, tambourines and singing
) as they weave their way up to the Sanctuary.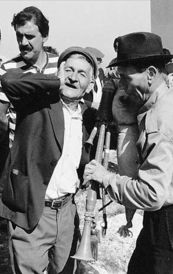 Once at the top the pilgrims proceed to pitch their tents outside the Sanctuary where they will camp for the 3 days,
singing, dancing and praising
Our Lady. Music and dance is so much a part of the festival that both continue, albeit to a lesser degree,
inside the Church
, reinforcing the link between Southern Italy and ancient Greek and Roman cultures. Narrative hymns are sung out, tarantellas are played on the barrel organ, while religious songs blend with sonatas on the traditional reed pipes (not unlike rudimentary bagpipes) in this medley of music and colour in honour of Our Lady.
Do go to Lucania for the feast of the Madonna del Pollino. You'll find a people and a culture you thought long-lost. Have faith, open your hearts and you will rewarded with the hospitality of this remarkable land. The colours, flavours, sights and sounds of this ancient mountain are guaranteed to stay with you forever.